Prevention of infection spread
Prevention of infection spread
Information on measures to prevent the spread of new coronaviruses
Thank you for using Yamagataya.
At this facility, we take the following measures to prevent infection.
We appreciate your understanding and cooperation.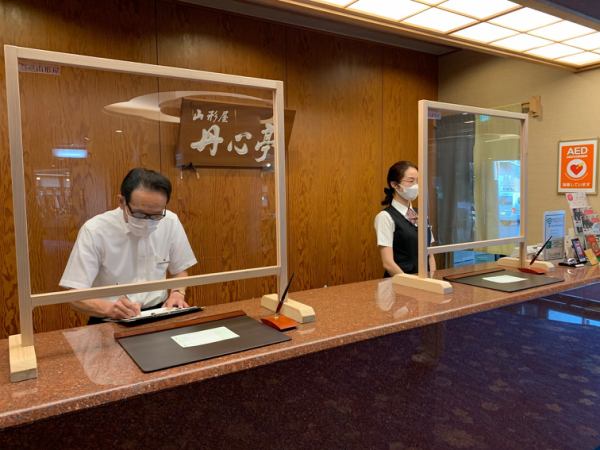 【Virus infection prevention measures at this facility】
·Alcohol disinfectants are installed at various places in the facility such as the entrance and restaurants.
·When cleaning, the doorknobs and handrails of the room are carefully disinfected with a disinfectant solution.
·Acrylic boards are installed on the front desk and shop counter to prevent splashing.
·In order to avoid face-to-face contact with customers, we reduce the number of meals served as much as possible.
·In the restaurant, the tables are spaced apart and tsuitates are set up in front of and behind the tables.
·The lobby and restaurants are regularly ventilated.
·Undressing baskets in the large communal bath will be installed at intervals to ensure a distance between customers.
·In consideration of the health of our customers, employees will wear masks or face shields.
·We will thoroughly manage your physical condition such as daily body temperature measurement.
·We thoroughly wash our hands and gargle.
·The waitress carries an alcohol disinfectant solution for work.
·We kindly ask for your cooperation in wearing a mask.For children (preschoolers)
Please use the judgment of the parents.
·Please cooperate with hand disinfection at the time of admission and at the facilities in this facility.
·If you are not feeling well, such as fever (body temperature is 37.5 ° C or higher) or fatigue, please report it to the staff.It should be noted that,body
If something goes wrong, we may refuse to stay or use the facility.

◆Gero Standard Guidelines (GSG)
Guidelines common to all inns and hotels at Gero Onsen Association member inns
We have created the "Gero Standard Guidelines" (GSG) to thoroughly implement infection prevention measures.
We sincerely look forward to welcoming you with peace of mind.

Please check the guidelines at the link below
◆Reiwa 2nd year Gifu Prefecture "new daily life" accommodation facility support subsidy
This facility has been maintained as shown in the attached sheet with the support subsidy for accommodation facilities for "new daily life" in Gifu prefecture in the 2nd year of Reiwa.
Please check the PDF for details